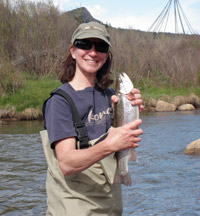 According to the recent release of the 2011 Fish and Wildlife Service's National Survey of Fishing, Hunting and Wildlife-Associated Recreation (National Survey), women make up more than one-quarter of anglers. While the proportion of hunters who are women is smaller relative to fishing, the percentage of female hunters has steadily risen in recent years.
When one considers the type of activities in which sportswomen participate, fishing (and not hunting) has an overwhelming majority. After a drop in overall participation in 2006, the number women who fish and/or hunt rebounded to 2001 levels by 2011. An interesting finding is that sportswomen in 2011 were participating in both hunting and fishing considerably more than they had in the past decade. This crossover of activities is important to note. Using our panel surveys, we are able to dig deeper to explore the activities of these women, what they are purchasing, and the outdoor media they consume. Women, in general, participate fewer days in fishing and hunting per year than men.
Dive into our Women in the Outdoors in 2012 report for more information.