Better information, better decisions.
Southwick Associates helps organizations make better decisions through better information. With a specialty in the hunting, fishing, target shooting, conservation and firearms sectors, since 1990 we've served a wide range of outdoor-oriented clients, including outdoor manufacturers (highly confidential!), natural resource agencies, conservation non-profits, investment and legal firms. We've been recognized as the outdoor sector's premier source of new knowledge. Our staff, located across the U.S., work in a collaborative, flexible environment that allows us to take our clients to new levels of success.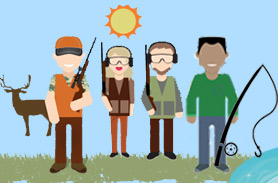 What We Do
Economic impact and valuation studies
Consumer motivations and preference research
Evaluation of R3 efforts and corporate marketing campaigns
Market sizing and trends research
Merger and acquisition due diligence
License and permit design and pricing
Data visualization and analysis
New product feedback, pricing, and preferred features
Consumer surveys
Brand awareness and perceptions
Regression analyses
… and much more!