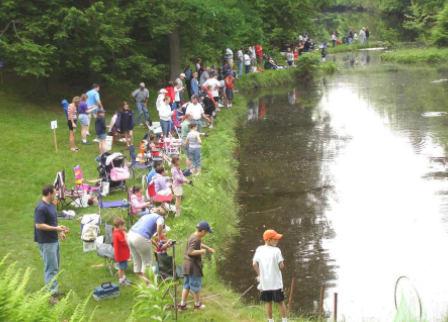 Funded by an AFWA-awarded Multi-State Conservation Grant, a grant has been awarded to the American Sportfishing Association (ASA) to identify how to improve the effectiveness of recruiting new anglers through local fishing events.
Once the grant is awarded in 2018, the ASA will work with state agencies, fishing tackle companies and local event organizers to survey 50 to 100 grassroots fishing events and identify best practices for attracting more first-time anglers to such events, as well as help more participants become independent anglers. As of mid-February, about 30 events have committed to participate. The project is designed to place very low demands on event organizers while providing information to help them improve the effectiveness of future events.
Event attendees will be surveyed twice: 1) immediately following the event to determine if they had fished before and identify event improvements; and 2) six months later to assess which beginners have fished since the event, purchased equipment or need follow-up support – and why.
Confidential results will be provided to each event organizer, along with combined statistics reported nationally as a baseline measure. Event organizers will also be surveyed to document their event promotional strategies, structure, content and practices, and other factors that impact success. Results will be compiled into a "best practices list" for adoption by local events, as well as by states and businesses who are regularly asked to donate funds, product and time to such events.
Grant participation requirements for event sponsors include:
• The ability to provide a list of event participants' emails for surveying immediately after the event and six months later.
• Permission to contact those participants to take the two surveys.
• Agreement to complete a questionnaire regarding their event's components and promotions.
• Events must take place by July 30, 2018.
Southwick Associates will manage all surveys, maintaining strict and permanent confidentiality for each event's lists and responses. ASA will provide $100 to each event organizer after receipt of participants' email addresses in 2018, up to 50 events in total. For more information, please contact Lisa Parks at lisa@southwickassociates.com; 904-277-9765.