Consumer Segmentation of U.S. Firearm Owners and Potential First-Time Buyers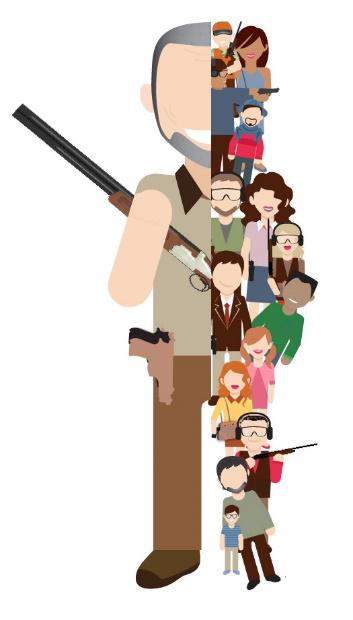 Firearms and accessories customers are not all the same. Business growth depends on understanding customers' evolving and diverse needs, and how customers' needs differ. With support from the National Shooting Sports Foundation (NSSF), Southwick Associates has produced the first-ever consumer segmentation study of firearms owners – plus potential first time owners – to help manufacturers and retailers understand consumers on a deeper level and identify new business opportunities. Consumers are segmented based on shared motivations and purchase preferences rather than demographics or how they use firearms. Eight customer segments have been identified, each having their own unique product preferences, attitudes, and needs. Based on over 100,000+ consumer surveys, let the results increase your company's sales and performance.
Key Results Include: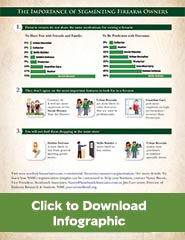 Products and accessories purchased in the past 12 months;
Firearms they want to buy in the next 5 years;
Most important product features desired by each segment;
Shopping habits and annual amount spent;
Their path to purchase (i.e. media usage, pre-purchase research, etc.)
Segmentation Summary & Webinar
FREE – Here is the 2 page summary that describes the consumer segments. Download here.
Click here for a 25 minute webinar providing insights from the firearms consumer segmentation study.
Full Detailed Report
– Sales growth depends on fully understanding firearm owners' needs and purchase behaviors.  Use the report to clearly define your customers and the products best suited for each of them, and develop communications and merchandising strategies that reach their hearts.  This 150+ Powerpoint-based report from the NSSF provides significant detail and insights for each segment. Hunting and shooting accessories are covered as well as firearms.
Please contact Lee@SouthwickAssociates.com to purchase the report.
NSSF members: $2,975
Non-members: $3,500
 Potential First-Time Firearm Buyers
– Over 24 million Americans think they are likely to purchase their first firearm within the next five years. Are you ready to win their business?
First-Time Firearms Buyers Segmentation Report
Download this free report describing these growth segments.
Supplemental Reports
– These reports complement the full segmentation report by taking an in-depth look at the demographics, firearm-related activities, motivations, needs, purchase drivers and shopping habits of key target audiences.
Click here to learn more about our new reports on the protection market, handgun consumers and modern sporting rifle owners.
Custom Research
– Every company is different. Let us provide you with detailed segmentation insights focused specifically on your products and customers.
Contact Nancy Bacon, Vice President at Southwick Associates (Nancy@SouthwickAssociates.com), to discuss how the NSSF's incredibly valuable consumer segmentation database can help improve your company's product lines, marketing, sales and communications. NSSF members receive a 15% discount on Southwick Associates' services.
Click here to visit the NSSF Firearms Consumer Segmentation page