Welcome to the Southwick Associates April 2012 Newsletter focusing on the economics, business and statistics of fish and wildlife and their associated outdoor recreation.
In This Issue:
On the Fence About Fishing: Why Anglers Lapse & Fishing's Competition

Crazy About Camo

Many Anglers Spend Less Time Fishing Than Desired

Hunting Then & Now: Celebrating 75 Years of the Pittman-Robertson Act

December and Annual 2011 Angler Trends, December 2011 Hunting & Shooting Trends Now Available
On the Fence About Fishing: Why Anglers Lapse & Fishing's Competition
Previous examinations of state fishing license sales by Southwick Associates revealed many Americans who consider themselves anglers don't necessarily fish or buy a fishing license every year. It begged the question: "Why and what do they do in place of fishing?" That question has now been answered following a study Southwick Association was involved in for the American Sportfishing Association (ASA). The findings are summarized in the ASA report "On the Fence about Fishing," which was just released in March.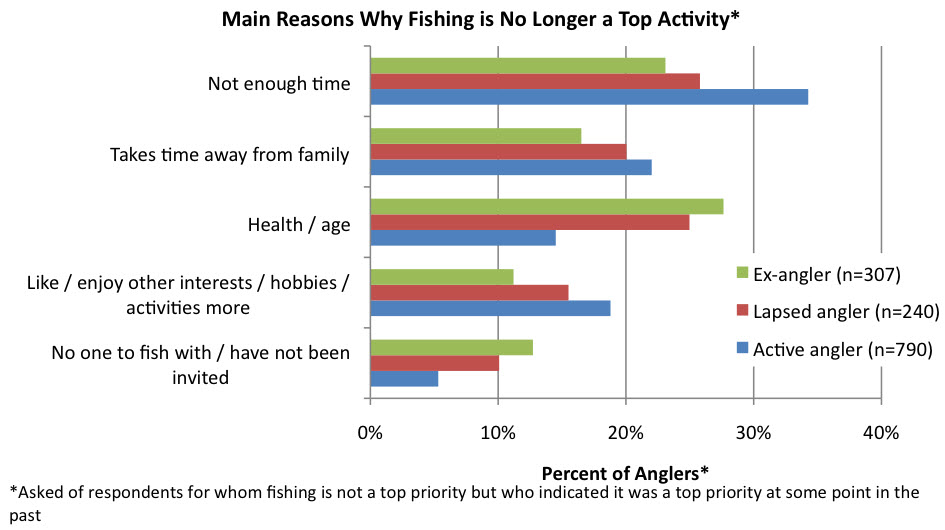 Key highlights include:
Top reasons why people fish: fun, relaxing, a great way to spend time with family and friends, catch something to eat, and to be outdoors. Reasons such as catching large fish, the challenge, or tradition are minor reasons.
Key outdoor activities found to compete with fishing include hunting, camping, hiking, golfing, gardening and trail running or walking for fitness. Indoor activities included watching television, cooking and reading.
Though "not enough time" is cited as a major reason for fishing less, this response in many cases indicates a preference for other recreational efforts. People state they will make time for activities they want to do, often at the expense of other activities, such as fishing.
Anglers—whether active or lapsed—still mostly prefer outdoor activities to indoor ones.
Most anglers don't live in rural areas, thus fishing opportunities and access in urban and suburban locations must be provided, promoted and protected.
To help reverse declines in angler numbers, industry and agency fishing promotions must keep fishing convenient, with few hassles and high levels of enjoyment, and a prime way to spend time with others. If not, anglers will find other activities that provide these outdoor experiences.
The single biggest thing that would encourage many lapsed anglers to return to the water for some fishing would simply be if someone invited them to go.
Inviting a person to go fishing is that easy in stemming the drop in angler numbers and can be the most effective and affordable way to retain or recruit new anglers to fishing's ranks. To check out the report summary or the full technical report presenting complete details, visit southwickassociates.com. This project was produced in partnership with Responsive Management.
Crazy About Camo
HunterSurvey.com recently confirmed what many retailers and manufacturers have long suspected—camouflage matters when put on many of the items hunters buy. The survey found 94 percent of those hunters and shooters surveyed had purchased at least one camo item in 2011. Only six percent said they had bought none.
Taking a deeper look at the numbers found, 18 percent of sportsmen said between 71 to 80 percent of the items they bought were in camo, 11 percent said between 81 and 90 percent were camo and 15 percent said at least half of their purchases were camo. A camo-dedicated 7 percent reported everything they purchased for hunting had some camouflage on it.
View the full press release.
Many Anglers Spend Less Time Fishing Than Desired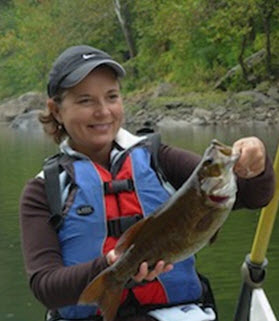 Closely related to Southwick Associates' research on why anglers quit fishing and what they do instead are the findings by AnglerSurvey.com that found many anglers yearn for more time on the water yet are unable to make that a reality despite their best intentions. In a survey conducted late last year, when asked if they fished more, less or as much as expected, 45 percent of participating anglers said they made it out "less." Less than 27 percent of anglers made it out more than expected and only 28 percent made it out as much as expected.
Reduced angler days translate into fewer dollars spent on fishing.
View the full press release.
Hunting Then & Now: Celebrating 75 Years of the Pittman-Robertson Act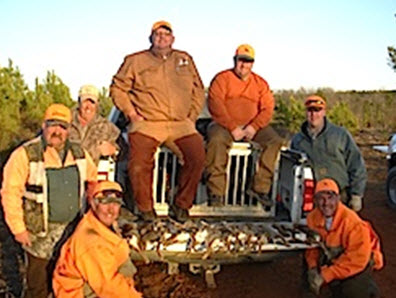 This year, 2012, marks the 75th anniversary of the passage of the landmark Pittman-Robertson Act, also more properly known as the Federal Aid in Wildlife Restoration) Act.
In 1932, Congress authorized an excise tax on firearms and ammunition that went into the general treasury of the United States. Five years later, with the passage of Pittman-Robertson, those excise taxes had to be passed on to state game agencies for the exclusive use of funding programs designed to improve wildlife habitat, as well as improve hunter access. The benefits of this program to game departments, sportsmen, sporting goods retailers and manufacturers, as well as non-consumptive users who still enjoy and appreciate wildlife and the outdoors have been abundant.
Here's a look at the state of game populations and hunting opportunities at the time
Pittman-Robertson was passed:
In 1937, 11 states had no open seasons for deer and three others only had local seasons. Missouri's deer season was only three days long.
Colorado only had a seven-day elk season.
Grouse season in Wisconsin was completely closed.
South Dakota only had local pheasant seasons.
No states had dedicated archery or muzzleloader seasons.
Here's how things stand now:
Today, virtually every state boasts lengthy deer seasons.
Missouri hunters enjoy more than 123 days of hunting for deer each year.
Elk hunters in Colorado can potentially hunt more than 120 days.
Wisconsin boasts a 136-day grouse season.
South Dakota has become the pheasant hunting capital of the world with abundant bird numbers and an 86-day, statewide season.
Special archery-only and muzzleloader-only seasons are held in nearly every state.
Even considering recent declines in the total number of hunters, there is still more than twice the number of hunters in 2010 than there were in 1937. Celebrate the passage of the Pittman-Robertson Act and all it has done for hunters and wildlife. It has even indirectly helped anglers as the program served as the model for the Dingell-Johnson Act (or Federal Aid in Sport Fish Restoration Act) passed in 1950 and designed to attach an excise tax to various types of fishing equipment to help fund sport fish restoration and opportunities.
A number of highlights and impacts of this landmark legislation are covered in the report "Financial Returns to Industry from the Federal Aid in Wildlife Restoration Program," which was compiled by Southwick Associates in conjunction with Andrew Loftus Consulting under funding coordinated through the Association of Fish and Wildlife Agencies. These reports provide additional "Then and Now" comparisons for most states and most popular game species.
View the full report here.
2011 Hunting & Shooting Trends and 2011 Angler Trends Now Available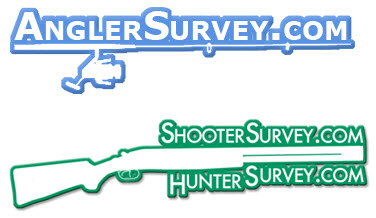 If you or your organization is involved in the media and would like to keep abreast of and report on the important economic, social and participation findings from Southwick Associates' monthly AnglerSurvey.com, HunterSurvey.com and ShooterSurvey.com, then you need to get on our mailing list. These reports are provided as a courtesy to those who are willing to offer links and promotional mentions of these surveys in their publications and on their websites to help us grow participation in the surveys and provide even more market depth analysis.
The "December and Annual 2011 Angler Trends" report as well as the "December 2011 Hunting and Shooting Participation and Market Trends" report are both available.
Highlights from these reports include:
In 2012, 42 percent of those surveyed would like to purchase a handgun.
81 percent of those who went hunting in December, hunted deer.
47 percent of respondents went shooting at a range.
The most frequently purchased firearm in December was a rifle (45 percent).
The top brand of rifle purchased was a Remington (18 percent).
Of those surveyed by AnglerSurvey.com, 29 percent freshwater fished in December, while 11 percent saltwater fished.
Fifty-six percent of those who fished did so from land, pier, dock or wading.
Thirty-seven percent of those surveyed, purchased fishing equipment in December.
In 2012, 80 percent of survey participants expect to purchase lures.
To help continually improve, protect and advance the shooting sports and outdoor recreation, all sportsmen and sportswomen are encouraged to participate in the surveys at HunterSurvey.com, ShooterSurvey.com and AnglerSurvey.com. Southwick Associates also urges media outlets to help get the word out about the surveys to encourage their readers, viewers and visitors to participate as well. If you or someone in your organization is looking for information or data specific to a story you are working on, but don't readily find it in our monthly trend reports, contact us. We can most likely help.
To sign up to receive these monthly reports, contact Donna Leonard at donna@southwickassociates.com.
Coming In The Next Issue:
Southwick Associates Media Monitor: What Media is Most Popular Among Hunters, Shooters and Anglers
Top Fishing Brands of 2011
Top Hunting Brands of 2011
The Effects of Rising Fuel Prices on Outdoor Recreation
Electronic Means to Successfully Boost Hunting and Fishing License Sales
Southwick Associates, Inc. specializes in natural resource & environmental economic, business and statistical research. Our staff is comprised of economic, business and statistics professionals throughout the U.S. who have in-depth experience measuring the values, benefits and revenues possible from fish, wildlife, and water-related natural resources plus their associated industries. We can help clients better address many business, legal, legislative and public communication issues through the practical application of reliable and accurate economic information and statistics.
For information and other reports, visit our Web site at www.southwickassociates.com
If you wish to be removed from our distribution list, please send an email with "remove from newsletter" added in the subject line, to donna@southwickassociates.com.
Newsletter Editor: Doug Howlett, Source Stream Media, LLC, Virginia Beach, VA