Two major data sources were used to determine the percentage of excise tax revenue attributable to hunting-related purchases. The first is a proprietary report produced by Southwick Associates on the size of the U.S. firearms, ammunition and related accessories market plus the spending associated with specific types of shooting sports activities. These market size estimates are based on annual federal excise tax collection data, current tax rates plus information from Southwick Associates' other proprietary sources and provide the most reliable estimates available regarding annual sales within the U.S. firearm, ammunition and accessories markets. The second data source utilized is Southwick Associates' proprietary HunterSurvey and ShooterSurvey research panel which tracks spending, participation and shopping preferences every two months. Together, these sources are able to estimate the proportion of excise taxes attributable to hunting versus other activities. Information was not available on the percentage of archery products sold for the purposes of hunting versus non-hunting activities. Therefore, archery sales could not be separated into hunting versus non-hunting purchases.
The results show that 22.5% of all taxable firearm and ammunition sales are for hunting-related purposes. The rest go to target shooting, work-related purchases, collectors, gifts (some of which may be intended for hunting) and self or home-protection purposes. It is reasonable to assume that a similar percentage, or roughly 22.5%, of excise taxes paid from firearm and ammunition sales can be credited to hunting-related activities.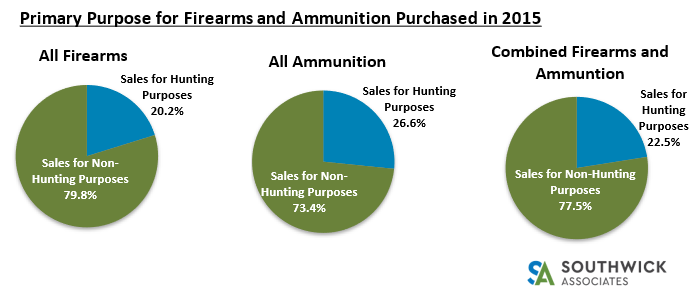 The results above suggest that just over a fifth of excise taxes collected through the Federal Aid in Wildlife Restoration (Pittman-Robertson) Act are the result of hunting-related purchases. Thus, it is crucial to acknowledge the importance of recreational shooters, firearm collectors, protection buyers and other types of firearm purchasers to the continued funding of wildlife restoration and conservation projects and to serve their needs via access to public ranges and firearm safety training.