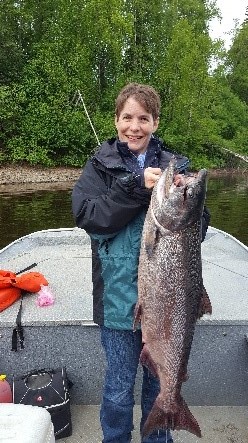 Sportfishing in Alaska's Cook Inlet offers unique fishing experiences from emerald colored rivers sourced by glaciers to windswept waves beyond the coast.  The state welcomes recreational anglers of all kinds, some looking for a trip of a lifetime or just a run to the local river after work.  In fact, anglers fished a total of 907,000 days in Alaska's Cook Inlet region in 2017.  Thus, the economic contributions of sportfishing to the economy of the Cook Inlet region are an important consideration for its natural resource managers.
Yet in 2015, the Matanuska-Susitna Salmon Research, Monitoring & Evaluation Plan for Upper Cook Inlet (RM&E), identified current estimates of the economic contribution of sportfishing to the Cook Inlet region as a gap in available data. Earlier estimates of economic contributions associated with sportfishing are available for Alaska and for the region.  These estimates, however, do not provide the level of detail to calculate the economic contributions at the regional level.  In short, new data were needed.
The primary purpose of this study was to quantify the economic contributions generated by resident and non-resident sportfishing activities on the Cook Inlet region of Alaska.  Angler spending was calculated using the results of an expenditure survey conducted as part of this study.  Total angler spending was developed by pairing several major data elements, including the average amount spent in the Cook Inlet region by a variety of trip types and per year by anglers.  Based on these total dollars spent by anglers for specific items in 2017, a tri-borough input‑output model of the Cook Inlet region was used to estimate the total economic contributions created through the multiplier effect.
In 2017, anglers spent $716.5 million on trip‑related goods and services, pre‑purchased packages, equipment and real estate used for fishing.  As anglers' dollars move from business to business in the Cook Inlet economy, the total effects of the spending generated $832.4 million in economic output and supported more than 6,300 jobs that provided $271.4 million in household income.
Although residents of Alaska spent roughly the same as non-residents ($358.5 million compared to $358.0 million), it was the resident spending that created more jobs and income. This was the result of differences in the kinds of expenditures made by residents and non-residents. Resident anglers spent more of their money on equipment while non-residents spent most their money on trip‑related purchases and pre‑arranged packages that include services such as guides, lodging and meals produced by the region's businesses.  Detailed impacts are summarized for several strata: by residency (Alaska residents & non-resident visitors), chartered services (guided and unguided), and water type (freshwater and saltwater) are provided in the full technical report.
This updated information can contribute to the MSB's policy discussions regarding fishery projects, land and water resource management and other relevant topics.  In fact, the Matanuska-Susitna Borough (MSB) is using this study as a basis to do a more regionally specific study.  For a copy of this new report, click HERE.