Whether it's shooting handguns or rifles, "plinking" is the number-one form of target shooting in America. In case you were wondering whether plinking is a real word, it is. The Merriam-Webster Dictionary defines the word plink as, "to shoot at random targets in an informal and noncompetitive manner." Diverse may be a better description of targets than random, perhaps meaning the following: paper targets, tin or aluminum cans, plastic beverage containers, metal or hard plastic targets, and my favorite: big, fluffy marshmallows. Sometimes the more creative the target, the more fun the plinking. Ever heard of Tannerite? Ka-boom! Some targets require outdoor plinking!
For years the shooting sports industry valued an easy-to-track benchmark of hunting participation statistics—hunting license sales. Not needing a license to enjoy a day of plinking meant the industry had little data on target shooting as a whole. That is, until recently. Southwick Associates completed an incredibly large research project for the National Shooting Sports Foundation (NSSF), and published the data last January at SHOT Show for all to see. You can read the entire 16-page Going Plinking: Target Shooting by the Numbers PDF report here.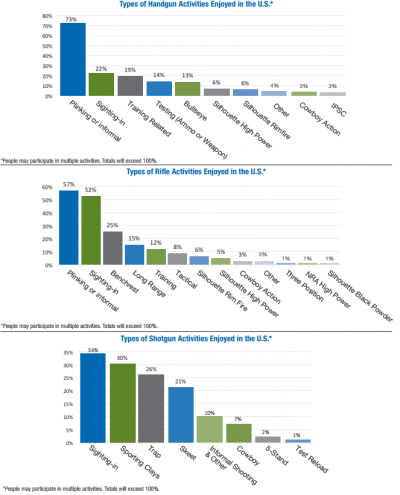 Plinking is the number-one form of target shooting in America for handgun and rifle activities. Chart courtesy NSSF/Southwick Associates.
Here are 15 statistics on target shooting from this extensive research:
Target shooting is estimated to provide an economic impact of $9.9 billion annually.
The number of American jobs created through target shooting exceeds 185,000.
Rifle and handgun shooting are tied for first place in type of target shooting (50 percent each) followed by shotgun (48 percent) and muzzleloaders (18.5 percent). Survey respondents could choose more than one answer, so the total adds up to more than 100 percent.
This report conservatively estimates the size of the shooting market at 20 million people.
About half of all active target shooters introduce a newcomer into shooting every year.
Behind plinking for handguns and rifles, sighting-in was the second-most reason for target shooting.
For shotgun target shooters, the top four reasons to shoot were sighting-in (34 percent), sporting clays (30 percent), trap (26 percent), and skeet (21 percent).
On average, shooters spend 22 days a year target shooting, with Nebraskans topping this list at 38 days. Arizona and Oregon were second and third with 36 and 35 days, respectively.
Handgun target shooters spend the most days shooting of all.
More money is spent in the state of California on target shooting than any other state.
Target shooting generates $1.8 billion in federal taxes and $1.6 billion in state and local taxes annually—that's $3.4 billion in tax revenue.
Only 18 percent of a target shooter's annual budget goes toward travel. That means 82 percent stands to benefit their local economy.
The biggest expenditure for a target shooter are the firearms themselves (48 percent of annual expenditures) followed by ammunition (14 percent) and range fees (nine percent).
The top five states with the most target shooters in 2011 were California (1.7 million), Texas (1.6 million), Pennsylvania (985,000), New York (964,000), Florida (845,000), Michigan (817,000), and Ohio (674,000).
When looking at the $48.2 billion spent across both hunting and shooting, surprisingly the pie splits nearly down the middle with 51 percent on hunting expenditures and 49 percent on shooting expenditures (using only the products or product categories common to both).
If you are a target shooter, you already know the fun of an outing to the range. Take someone who doesn't know. Even just an hour or two at the range might completely transform a non-shooter into a new shooter, joining a large group of us who know punching a little bit of paper makes for an awesome day.
To the scores of people in the industry providing great products and running safe and customer-friendly ranges, it is great to have your efforts officially recognized in the shooting sports industry. We now have reliable data to back it up.
Many thanks to the NSSF and Southwick Associates for sharing this great information.