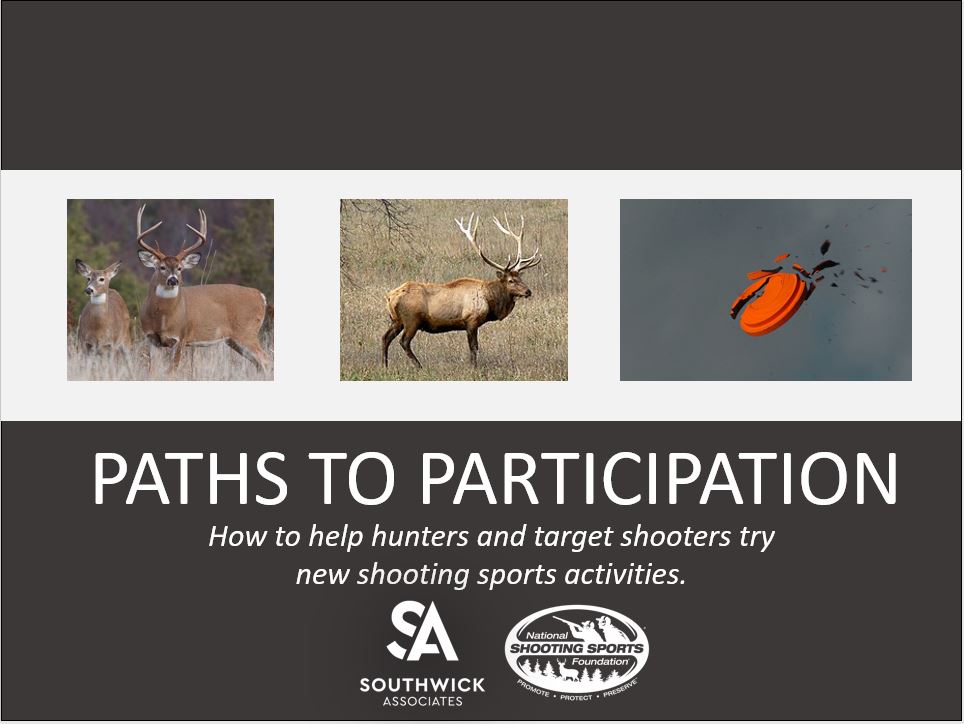 As is normal, people frequently take on new recreational activities while dropping others. Within any recreational activity, the concern is that current customers might drop their sport completely in favor of something new. In a joint effort with the National Shooting Sports Foundation (NSSF) and numerous industry and NGO partners, Southwick Associates examined current shooting sports participants' interests in other types of recreational shooting activities and how to best help them try new forms of hunting and shooting sports.
Results show that the industry has significant opportunities to grow. For example, if the industry influences just two percent of deer hunters to try shooting 3-Gun with a semi-automatic handgun, that would generate roughly $30 million in new sales. Through an online survey, active hunters and shooters (those who have participated in the past three years) expressed their interest in twenty different types of hunting and shooting activities and types of firearms, including crossbows and muzzleloaders. Reasons why they haven't tried activities of interest varies by activity, but they agree that greater support from friends, inspiration from manufacturers and retailers, such as promotional programs and services would be beneficial.
For example, one of the activities that garnered the most interest is hunting wild turkey. In fact, the majority (99%) who are interested want to try it for the first time. The biggest interest comes from the South and the Midwest. However, access and having someone to go with are the two biggest problems. Other barriers they face include not knowing how to get started and not having enough time.
Manufacturers and retailers can strengthen their customer relationships by offering a helping hand. Partnering with organizations to provide convenient and safe places to hunt turkeys and offering unique experiences will help inspire firearm owners to try the sport. The following are tactics to focus on:
• Easy Access: Promote mobile apps and online tools to help them find local lands, make reservations, rent equipment, etc. In addition, create beginner apps or voice-activated assistants, like Google Assistant or Amazon's Alexa that answer questions, such as where to rent equipment, how to properly and safely use a firearm, plus advanced level apps to help perfect their skills. Promote these online tools through social media and popular websites.
• Be Simplistic / Convenient: Promote how it can fit in their busy schedules, such as "way to spend time with friends," and position it as very easy to try.
• Social Encouragement: Hunting and shooting are social activities. Very few will participate if they do not see their friends or others like them participating. Leverage non-professionals' hunting and shooting videos, photos and stories through social media platforms (Instagram, Facebook, YouTube), blogs, magazines and share through television programs. Encourage friends to connect at the field or at the range.
• Promote "First Touch" Experiences – Collaborate with organizations or landowners to create events or experiences that current customers will want to make time for.
Click here to access the free report.