Do you know how big your niche of the nearly $1 billion fishing reel market is? Or, do you need to learn how large the various categories are within the almost $1.5 billion hunting accessory market? Knowing how much consumers spend and how their spending is divided among product categories, is critical for businesses that are making wise investments. Southwick Associates' new retail market size reports for fishing and for hunting & shooting sports are now available. The estimates for firearms and ammunition also cover the home- and self-protection markets.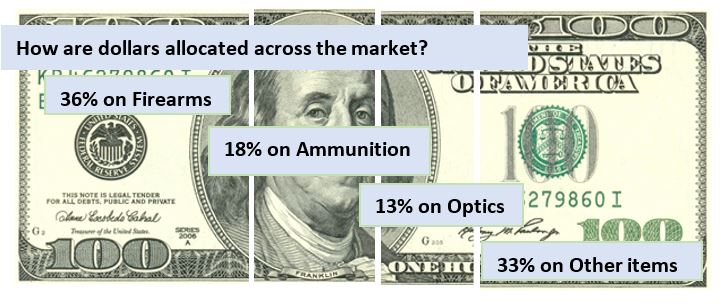 The hunting and shooting sports market report examines both spending and units purchased for key product categories including firearms, ammunition, optics, archery, hunting and shooting accessories and more. Each major category is further sub-divided into specific product segments, with estimates provided for each category's primary use (hunting, self-defense, etc.). The sportfishing market report provides estimates and breakouts for rods, reels, combos, line, lures, terminal tackle, electronics, apparel and other fishing gear.
Also available are three updated hunting-specific reports covering deer, turkey and waterfowl. These detailed reports estimate overall spending, detailed equipment purchases along with outdoor media consumption habits for hunters who pursue different species. These reports can help outdoor companies gain perspective about their market position, how they compare to the competition and guide their marketing strategy.
Report analytics are based on a proprietary, balanced survey of the U.S. general population, combined with excise tax and in-house data from Southwick Associates' other research tools. For more information, sample reports, pricing and purchasing information, please click here.